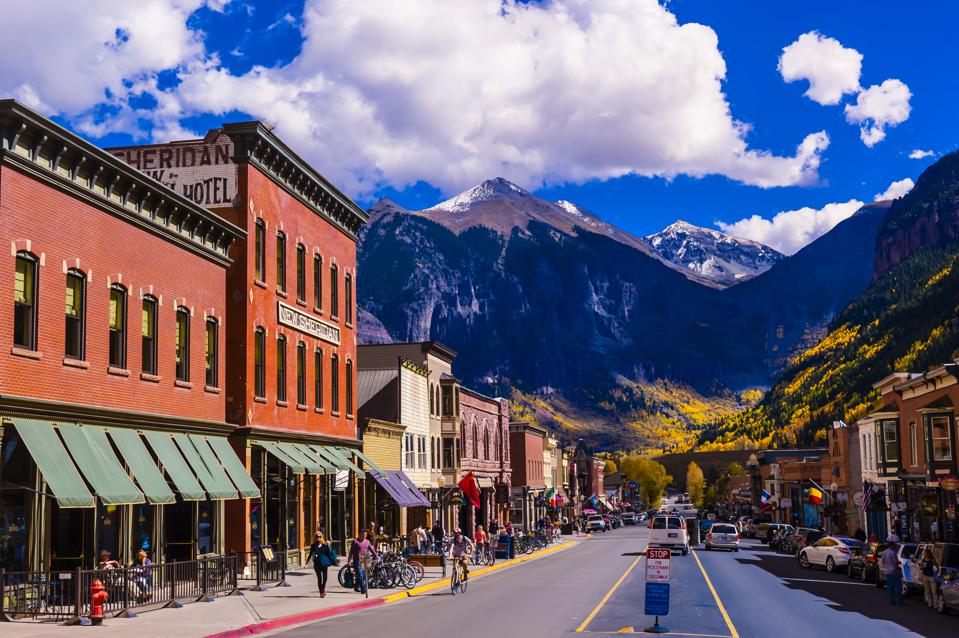 Whether it's for the beauty, the mountains, the weather, or the diverse culture, Colorado is one of the fastest-growing states in the nation. According to the stats provided by the U.S. Census Bureau, the state welcomed 80,000 new residents since mid-2017, making the population growth rate 7th in the nation. But what is the cost of living in Colorado in 2021? Is it more expensive than the national average cost of living? As more people are moving to the Colorado state lately, the demand for housing, food, services, and goods is increasing naturally. Let's look at the exact cost of living in Colorado step by step.
1- Housing Costs in Colorado
Housing costs play the most significant role in determining the living cost of any state. According to major real estate listers, the median home price in Colorado is $453,250, which is significantly higher than the national average of $340,000. Prices like these might disappoint you if you are looking to purchase your new home in Colorado. But when you look across the entire state, there is quite some hope in finding housing prices within your budget range. Here is how the home prices stack up in the top 5 most popular cities of Colorado.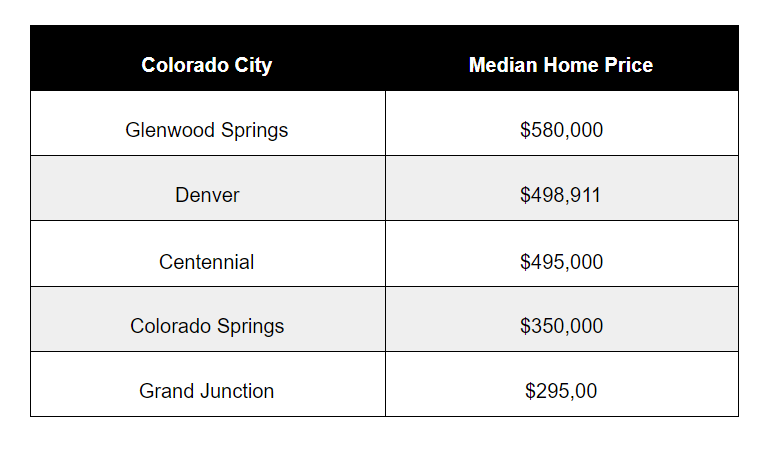 Source: zillow.com & realtor.com
Next, we have compiled for you a list of the most affordable places to live in Colorado 

Source: zillow.com & realtor.com
As shown in the table, the housing prices in Colorado vary between as high as $580K to as low as $151,200. You can further find cities in Colorado with even lower housing prices all within very close proximity of downtown Denver.
2. Utility Expenses in Colorado
According to a report from the U.S. Energy Information and Administration (EIA), residents of Colorado consume much less energy as compared to the national average. As a result, an average monthly utility bill in Colorado is about $350, which makes it among the top 10 states with the least expensive utilities. These monthly utility bills include the following utilities
 

Electricity

 

Water

 

Natural gas

 

Internet

 

Trash/recycling
One of the major reasons behind low utility expenses is most houses in Colorado do not have central air conditioning. The credit goes to the all-year-round pleasant weather in most of the Colorado cities. Furthermore, Colorado is the 6th largest natural gas-producing state. This results in a cheaper natural gas supply for the Colorado residents as there are no transportation costs on it.
3. Transportation Costs in Colorado
 Public transport can help reduce the transportation costs by a significant amount provided that you live and work nearby transit stops. Most residents in Colorado prefer public transportation over owning a car mostly because the major chunk of the population here is of young millennials and college students. Moreover, the car insurance cost in Colorado is slightly higher than the national average.  Luckily, public transportation is widely available in Colorado, thanks to Colorado's Regional Transportation District (RTD). You can easily find buses and train services to and from Denver, Colorado Springs, and other nearby cities. You can get a monthly pass for these transportation services at a cost between $100-$200 depending on whether you get a local pass or a regional pass. You can get further discounts on these monthly passes by getting a College Pass, FlexPass, Neighborhood EcoPass, etc. 
4. Healthcare Costs in Colorado
Healthcare costs play an important role in determining the cost of living of any state. Just like any other state, residents of Colorado have to pay their monthly health insurance. Unfortunately, the insurance costs are at the whim of the Federal Government and continue to increase and decrease. Recently, the average monthly cost of medical insurance without a subsidy in Colorado has decreased from $358 to $340 for the year 2021 (source: healthmarkets.com).
5. Colorado State Taxes
The base sale tax rate in Colorado is 2.9% but many cities add their own tax amount on top of the base sale tax rate. For example, residents of Colorado Springs pay 3.07% tax rate on all their transactions. Then there are real estate taxes that you will need to pay yearly. Luckily, real estate taxes in Colorado are some of the best in the country with the average effective property tax rate being just 0.57%. The reason behind low property taxes is that none of these tax revenues go to the state government. All of the income from property taxes stay within your county residence, which is a good benefit. As the money from these taxes is used for local maintenance such as road constructions, sewage maintenance, and so on.
What is the exact cost of living in Colorado?
 Considering all the above-mentioned costs, the average cost of living in Colorado in 2021 lies somewhere between $4000-$4500 (including your mortgage payments) depending on the size of your family and your mortgage costs.  Obviously, these costs largely depend on which county you are living in and how big your monthly mortgage payments are. The costs for each category tend to decrease sharply if you are moving to a smaller city in Colorado like Pueblo.  Is it expensive to live in Colorado? Yes, the living cost index in Colorado is slightly higher than the national average.  Can you still afford to live in Colorado? Yes, Colorado state has so many small and beautiful cities where you can easily afford to live whilst staying in your budget. 
How much do you need to earn to live in Colorado? 
According to a report published by HowMuch.net, in order to comfortably live in Colorado state, you need to earn around $100,200 yearly.  But these stats might be outdated, as they do not consider the post-Covid economic downturn in the U.S.  According to more recent data, a good salary in Colorado is approximately $6500 per year. This will ensure that you live a comfortable life in Colorado and all of your bills are paid on time while leaving a reasonable surplus money each month.
Bottom Line
You might find it pretty expensive to live in Colorado, but know that living in Colorado has its own unique perks as well. Moving to Colorado means having more time to take advantage of all the outdoor recreational activities and pursuing the lifestyle you want. People here are very fond of surfing, kayaking, hiking, skiing, and much more.  High wages paired with a strong economy means that you can truly benefit from Colorado's diverse and healthy lifestyle. A steady job growth, a healthy yet exceptional lifestyle, and affordable utility costs, houses surrounded by breathtaking mountainous views are just a few of many reasons why you should consider Colorado as your new home destination. 
If you have any mortgage-related questions, feel free to contact our Loan Officer now. We are a top-rated mortgage company in Denver, CO. Contact us now to get started with your loan application.
Get pre-qualified for a home purchase in Denver